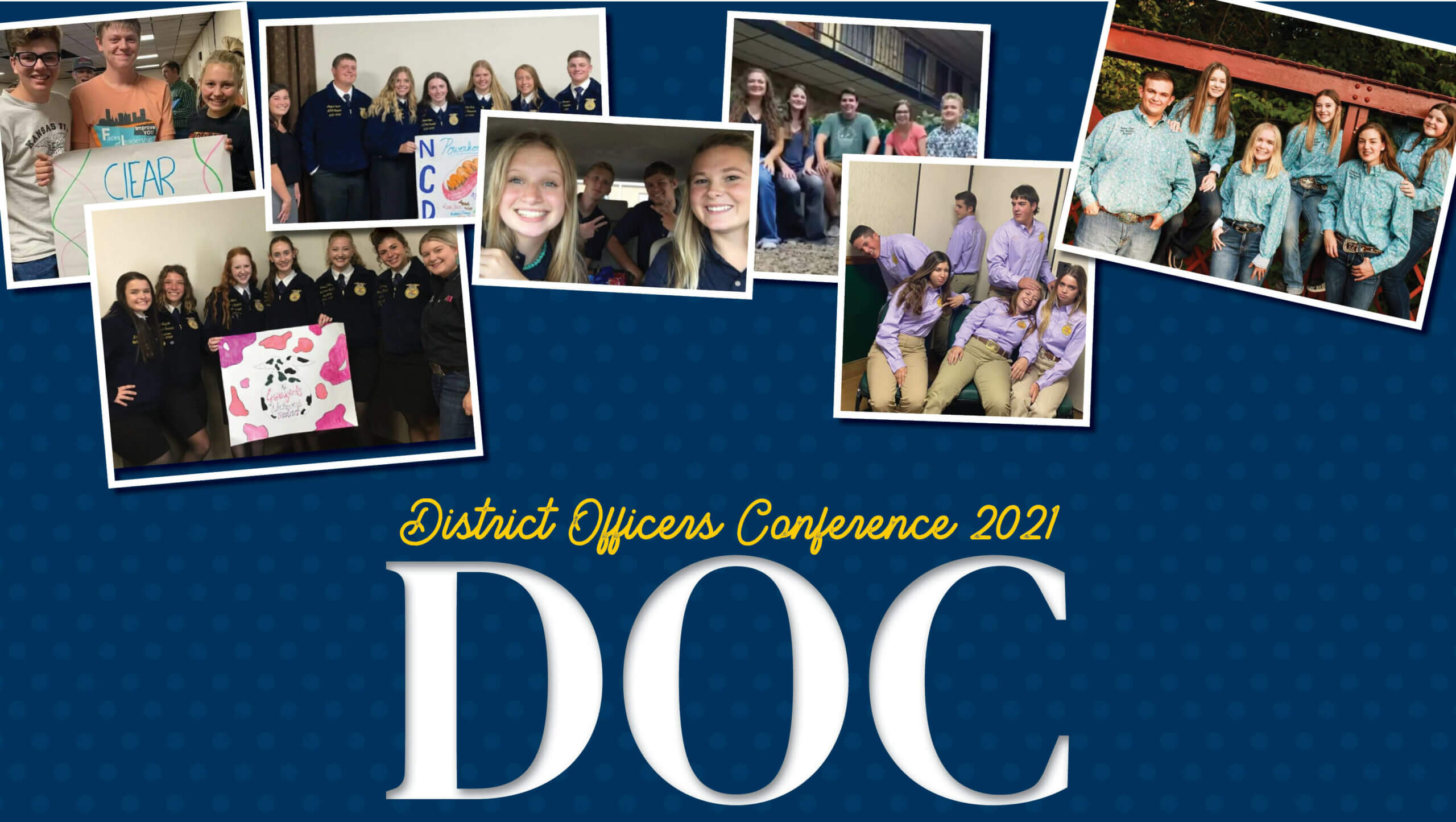 2021-2022 District Officers Begin Year of Service at District Officers Conference
News
EC
NC
NE
NW
SC
SE
SW
Each year the seven districts of the Kansas FFA Association select teams of student members to serve as district officers. Considered some of the most involved and dedicated members of our association, district officers bear a variety of responsibilities during their year of service. They grow themselves, members, and our association in tremendous ways.
The 2021-2022 Kansas FFA District Officers recently completed this year's District Officers Conference in Salina, Kansas and have officially begun their year of service to their districts. The following members will be representing their chapters and serving their districts this year:
East Central District Officers
Cody Loganbill, Eudora – President
Taylor Hadl, Eudora – Vice President
Peyton Sherron, Spring Hill – Secretary
Seth Aistrup, Paola – Treasurer
Halle Finnerty, Burlington – Reporter
Carissa Dalquest, Council Grove – Sentinel
North Central District Officers
Weston Schrader, Minneapolis – President
Reece Geer, Clay Center – Vice President
Shelby Siebold, Clay Center – Secretary
Natalee Bray, Pike Valley – Treasurer
Kiersten Morgan, Pike Valley – Reporter
August Hulse, Minneapolis – Sentinel
Northeast District Officers
Joey Marten, Onaga – President
Karlie Albright, Royal Valley – Vice President
Ella Gantz, McLouth – Secretary
Kaylee Lukert, St. Marys – Treasurer
Tyree Figge, Onaga – Reporter
Jenna DeRouchey, Wamego – Sentinel
Northwest District Officers
Kirsten Kyger, Russell – President
Karli Neher, Hays – Vice President
Bethany Rother, Weskan – Secretary
Kaley Wagner, Smith Center – Treasurer
Cappi Hoeting, Stockton – Reporter
Amelia Jaeger, Hays – Sentinel
South Central District Officers
Cali Newdigger, Skyline – President
Mackenzie Anderson, Renwick – Vice President
Aaron Blagg, Udall – Secretary
Kyce Morgan, Arkansas City – Treasurer
Sage Toews, Canton-Galva – Reporter
Mickelly Soyez, Marion-Florence – Sentinel
Southeast District Officers
Aidan Yoho, Yates Center – President
Emma Duff, Erie – Vice President
Emma Kepley, Riverton – Secretary
Gwen Fry, Uniontown – Treasurer
Zoe Rhodes, Girard – Reporter
Carly Dreher, Iola – Sentinel
Southwest District Officers
Alec Walton, Stanton County – President
Payton Walk, Greeley County – Vice President
Areli Rodriguez, Stanton County – Secretary
Grant Theurer, South Central – Treasurer
Paisley Palmer, Satanta – Reporter
Christian Pena, Sublette – Sentinel
District officers traditionally have responsibilities such as serving on the state Board of Directors, planning and facilitating a district Greenhand Conference for first year members, volunteering at the State Fair, and presenting a district banquet. We look forward to what these students accomplish during their year of service.