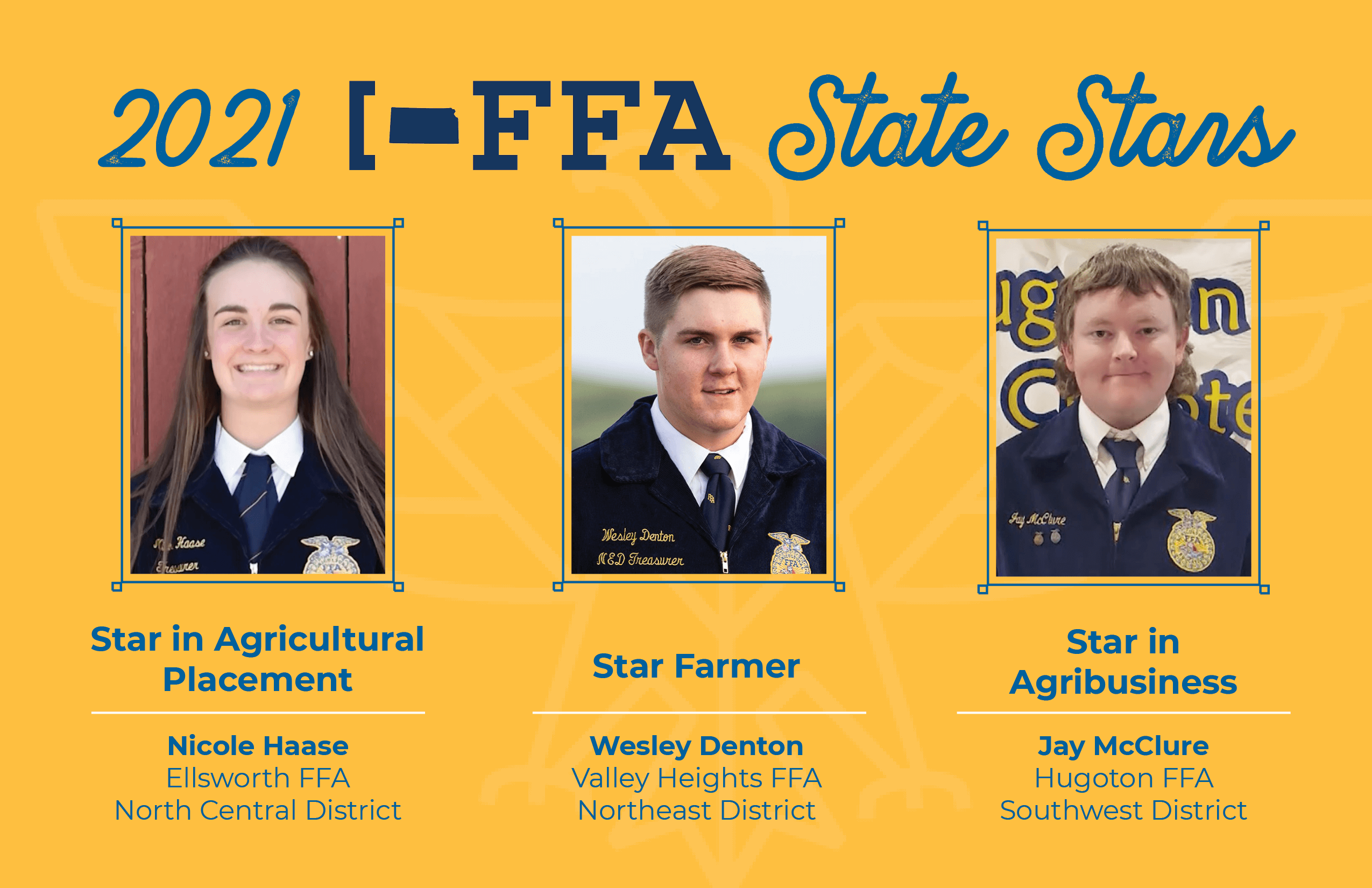 2021 Kansas FFA Stars Announced
Convention
News
Ellsworth
Hugoton
Valley Heights
Each year, the Kansas FFA Association recognizes three FFA members who have the top Supervised Agricultural Experience (SAE) programs with the Star Farmer, Star in Agribusiness and Star in Ag Placement awards. The 2021 Stars Over Kansas are:
Star Farmer
Valley Heights FFA member Wesley Denton was recognized as the State Star Farmer.
Denton's SAE is in Beef Production – Entrepreneurship. During his SAE experience, he expanded and grew his beef operation while working at Springhill Herefords. He started his operation at 3 years old when his grandfather gave him his first heifer. Since then, his herd size has grown to 45 mature cows, along with 25 heifers, steers, and bulls. Denton has gained valuable knowledge related to successful beef production, including research on breeding beef cattle as well as haying and row crop operations.
Wesley is the son of John and Angie Denton. His FFA chapter advisor is Drew Obermeyer.
Star in Agricultural Placement
Ellsworth FFA member Nicole Haase was recognized as the State Star in Agricultural Placement.
Haase's placement SAEs are in grain production and beef production. During her SAE experience, she was employed for two farming and beef production operations owned by her father and grandfather. Between the two operations Haase worked more than 1,000 hours, time spent caring for 500 head of cattle and helping farm over 2,500 acres. Working during weekends, summer, and days off from school, Haase has gained experience in servicing and operating machinery on the farms. She's also learned about beef production firsthand by gathering, sorting, feeding, and working cattle. When Haase is not helping with the cattle or busy during the growing and harvest season with the crops, she's helping with other farm tasks such as fixing fences, checking pastures, changing oil on equipment, or taking care of her own livestock.
Nicole is the daughter of Arrin and Kristin Haase. Her FFA chapter advisor is Karl Dawn Hobbs Stover.
Star in Agribusiness
Hugoton FFA member Jay McClure was recognized as the State Star Farmer in Agribusiness.
McClure's SAE is in Agricultural Services. During his SAE experience, he expanded and grew his forage operation while working on his family farm. McClure has obtained valuable knowledge related to forage production, gaining experience in operating much of the equipment such as swathers and steamers. Since beginning his SAE program in 2018, McClure has helped produce and sell more than 5,000 bales of hay annually. It's gained him more than 4,000 hours of experience in working and operating a forage production business like McClure Farms.
McClure is the son of Joel and Karen McClure. His FFA chapter advisor is Les McNally.