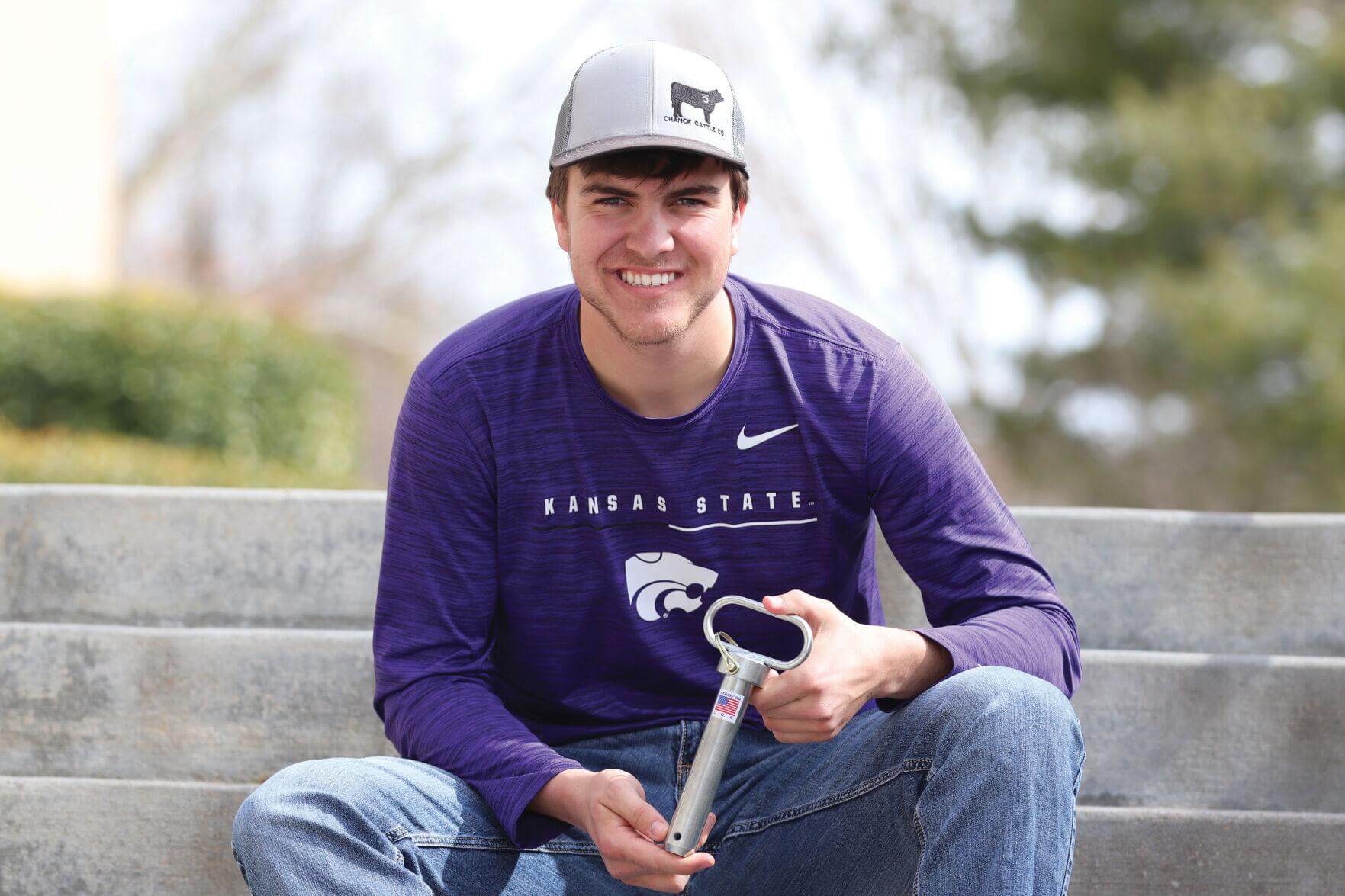 Entre"PIN"neur
A Past Kansas FFA member takes inspiration from farm accident and creates new product 
Story by Lucas Shivers, Photo by Adrian Austin of the Agriculturist
---
While out in the hay meadow the summer after Blake Chance's senior year of high school, a baler bearing went out almost causing a fire.
"I was lucky it didn't all burn up," says Chance, from Hoyt, Kan., north of Topeka. "I didn't want to lose the tractor with the baler, but the hitch pin was stuck."
Chance's experience spurred a new, original design for a hitch pin. It took a few tries to create a working prototype.
"Although the first one didn't work, we eventually created my vision," Chance says. "I sat there and wrote down a bunch of names. Quick-Pin just stuck."
Planning and Marketing
Thanks to an entrepreneurial class at KSU and third place finish at an event called Launch for new ideas, he applied Quick-Pin for patent pending status in 2019. Then for six months, Chance thought Quick-Pin was "dead in the water."
"I didn't think I could find anyone to make it," he says.
Yet in Jan. 2020 before COVID, Chance connected with a producer near Topeka. The first shipment of 250 Quick-Pins arrived in April.
"It's hard to know what would have happened without COVID," he says. "I couldn't go to any farm shows, but I did a lot of online work."
Chance used social media connected from the family farm, with his parents DJ and Kristi, along with his older sister Ashley.
"Thankfully, I had an Instagram with 40K followers from the farm to share about Quick-Pin," Chance says. "I made some stupid videos on TicToc and sold a few that way. It all worked out."
Deep Roots in FFA
Currently a senior in ag business at KSU with a possible entrepreneurial minor, Chance reflected on the inspirations to his perseverance and resilience.
"In FFA, I was always giving it a try," Chance says. "I always went for it, and it worked."
When the Royal Valley chapter reestablished his 8th grade year, the fresh start allowed for an influx of new ideas.
"I don't know what I would have done without FFA," Chance says. "I was involved with countless events and so many people."
He took on the role of chapter president his junior and senior year after serving as essential.
"The elementary ag day showcased machinery and animals," Chance says. "Everyone needs to know about ag, and we have to do better to share how we operate."
Strong, Lasting Connections
Chance said the benefits of his connections from FFA, KSU and other networks paid off with Quick-Pin.
"Folks continue help out with my business now that I first met at the Kansas State FFA Convention," Chance says. "It's all about who you know and getting the right people to get things done. Some people may think you're some young, dumb kid; but I got most to take me seriously."
His advice for FFA members: Get your foot in the door and see where it all leads in the future.
"You never know where new things will lead to," Chance says. "Go for it in all of the CDEs and SAEs. One thing can lead to another."
Want to see the full issue of the Kansas Future Farmer? Visit: https://issuu.com/ksffa/docs/ks_future_farmer_fall