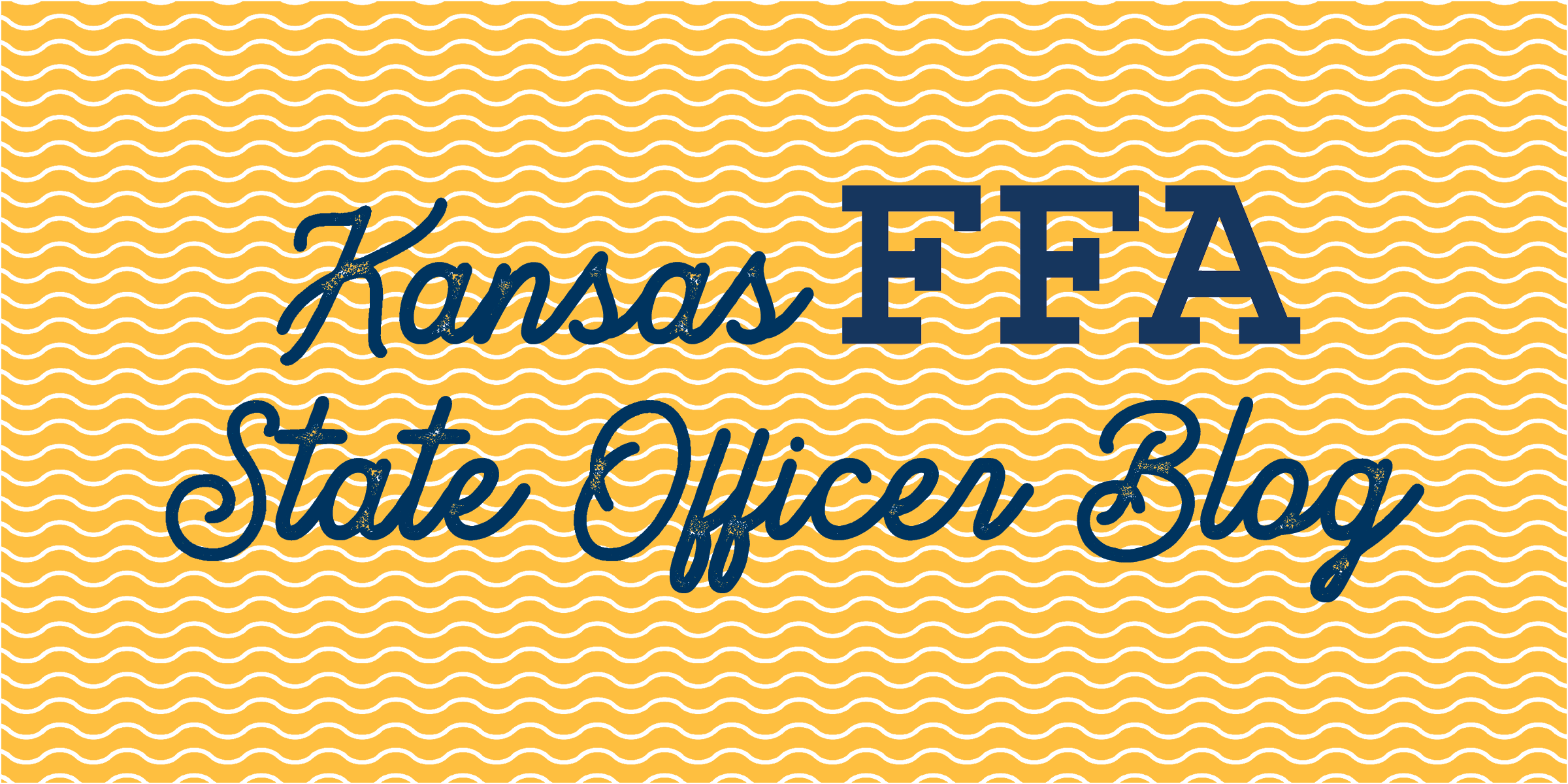 A (Not So) Perfect Ending
If you had asked me two weeks ago what my biggest accomplishment was, I would have replied with, "Being named Champion Suffolk Market Lamb at the Kansas State Fair in 2018." Now, however, my answer is different.
Some of my earliest memories are of spending time in the barn with my sheep and getting the chance to show them. Last weekend was the very last time I was able to show in any Youth Livestock Shows in the state of Kansas, since I recently turned 19 and aged out of 4-H.
Last weekend was the Kansas Junior Livestock Show and my very last class of the show, and of my entire career, was Class 8 of Senior Sheep Showmanship. I've never received a call-back for finals of showmanship and this was my last chance.
I wanted it to go perfect.
At the call for Class 3 of Seniors, I got my lamb out of the pen and headed to the wash racks like I had done for almost a decade. My brother followed with the whitening shampoo and the hose, and in complete silence, we washed my Dorset ewe lamb until she gleamed.
I wanted her to look perfect.
I walked her back to the pen when we were finished, with my brother following close behind and began to prep her for the ring. Like clockwork, I began my routine that I had done dozens of times before: toweling her down, spraying her, brushing it in, blowing out her legs, spraying them with conditioner, blowing it in, and shaping them with a card so they look beautiful.
For those who don't exhibit livestock, showmanship puts an emphasis on fitting and I spent longer than normal carding the legs. Slowly and patiently, I brushed them, stepped back to examine, and went back in to correct them.
I wanted them to be perfect.
Having finished my task, and with my ewe lamb gleaming, I stood up and chatted with my family for a bit since we still hadn't heard the call for Class 8 of Seniors over the intercom. Minutes passed and my brother headed up to the front of the barn to see which class they were on.
They say ignorance is bliss, and they are correct.
My brother trudged back down the isle and I will never forget what came out of his mouth next, "They're on the Champion Drive for Seniors. You missed your class."
I've never felt more confused, stunned, or heartbroken in one second. Then I jumped into action, not wanting to believe him. I grabbed my lamb, and together we sprinted to the front of the barn, to the ring, and to the horrible, awful truth that awaited me.
My brother was right. In front of me lay 20 seniors working for the Champion belt buckle, and I stood in the background with my perfect lamb and perfect dreams, and I was perfectly shattered.
I've never missed a class in all my years of showing, and it's ironic that the first one I miss happens to be my last. I also never cry in public, but that day, I didn't try to contain myself. Nobody in my family did. If you looked closely that day in Hutchinson, Kansas, you would have seen a group of crying Sebestas, holding a white lamb.
Maybe if I had known that the market lamb class I had stepped into the ring for earlier that day was my last, I would have appreciated my final time in the show ring a little more. Looking back, that's something I think we should all be doing. We should treasure the present because we don't know what will happen in the future. But what was done was done and I was determined to make the best of it.
The show ended. The buckles got awarded, and the space around the arena cleared. If you had happened to glace over your shoulder as you walked to clean your tack up, you would have noticed a girl in a red shirt enter the arena alone, holding onto a blinding white lamb.
A perfect lamb.
You would have seen her set up in the corner of the ring and expectantly look up for a judge that wasn't there, and would never be there again.
You would have seen a mother filming the girl, a father holding a halter, and a brother leaning on the gate, all crying.
In the arena, I stood up and made my way around the rest of the ring, setting up for the final profile. This time, I paused to soak it all in: the crunch of the woodchips, the dust floating in the air, the feeling of a lamb in my hands and against my legs, the faint burn of holding a deep lunge. And with just my family watching, I exited the ring for the final time.
I returned to the pens and managed to snuff away my tears enough to take photos with my lamb, who was getting returned to the breeder at the conclusion of the show.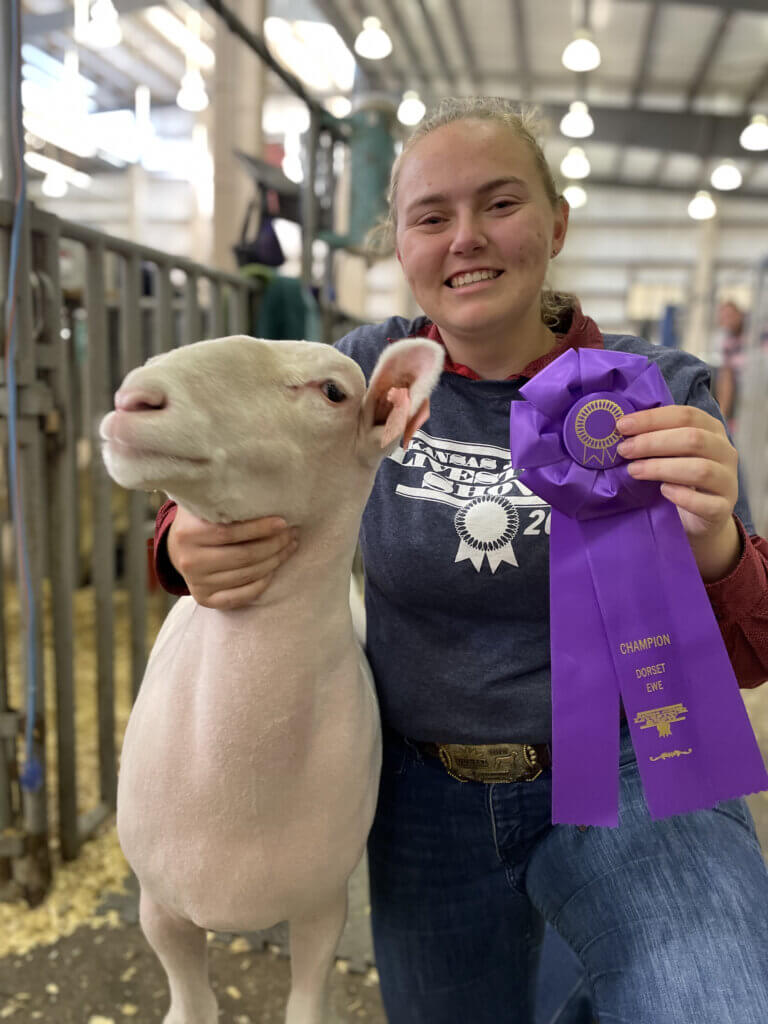 I was doing okay until my parents asked for one more photo. Confused, I stayed on the ground and they handed me a strip of dusty leather.
At the Kansas Junior Livestock Show, they hand out leather ribbons to every exhibitor who participates in showmanship, regardless of how they place. Sadly, many are thrown away by exhibitors who storm away, angry at a judge who didn't pick them. My parents had found one on the ground.
That day, I didn't receive a ribbon because I didn't show in my class. But in that moment, that piece of discarded leather meant more than the world to me.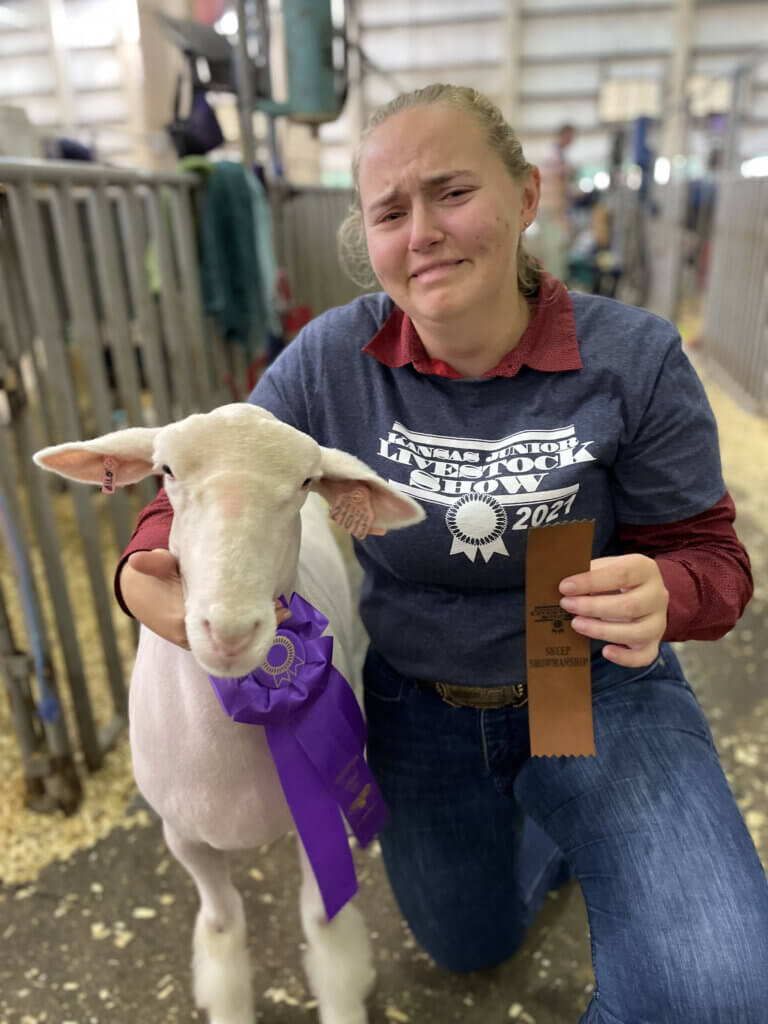 To me, that scrap of cheap leather is my greatest accomplishment. To me, it's twelve years of hard work, countless hours and dollars thrown into a project that yielded few tangible rewards, and one big regret.
And I think that's kinda perfect.
Forever grateful,
Rachel Sebesta

Kansas FFA Vice President