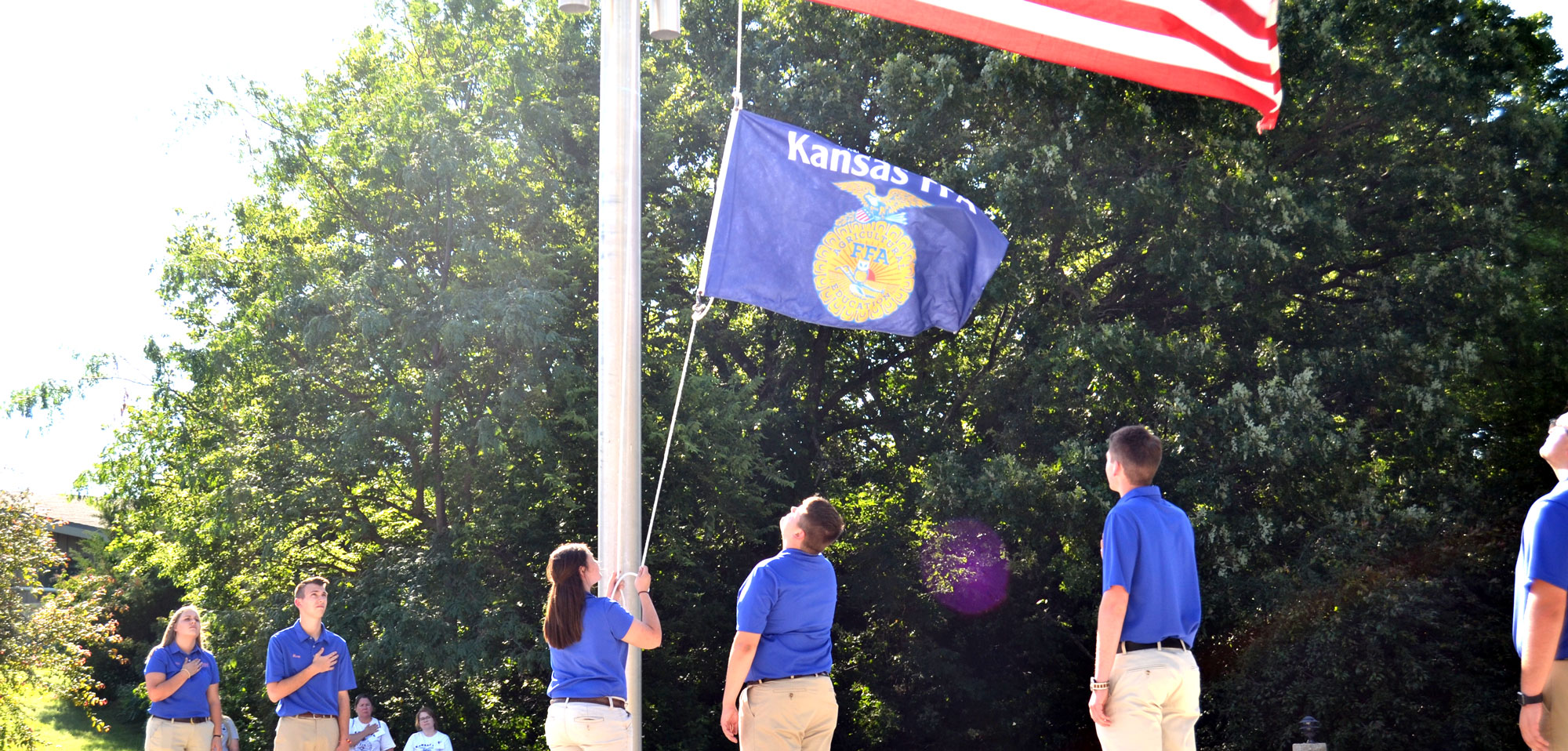 Ways to Help Kansas FFA
Supporting the Kansas FFA Foundation means you are investing in the future of our state and in the future of agriculture. Kansas has nearly 13,000 FFA members and continues to grow. We need your support to ensure our young people can continue to thrive through the FFA. The history of giving to the Kansas FFA Foundation has been a long one, filled with many success stories. Your donation helps keep the tradition of giving alive and growing alive.
Want to help? Let us show you how.
Support of the Kansas FFA Foundation allows us to fund its FFA programming, student scholarships, agricultural education and educator professional development, SAE grants, leadership development, and the Kansas FFA Convention.
Donations can be designated as memorial gifts, general endowment gifts, unrestricted gifts or as scholarship and grant awards for students and teachers. All gifts, no matter the size, are recognized annually at the Kansas FFA Convention and in the Annual Report, as every gift has a part to play in the continuation of the Kansas FFA mission for future generations of students and teachers.
Contributions are tax deductible as defined by the Internal Revenue Services.
Create a scholarship
An endowed scholarship is a wonderful way to establish a legacy. You determine the name of the endowed scholarship and you help set the criteria for selecting a deserving student to receive the award. The interest earned from your endowed scholarship fund is awarded each year in the form of a scholarship. The principal amount is never spent, thus ensuring the perpetuity of the scholarship and the legacy of giving for a lifetime.
The scholarships are awarded annually at the Kansas FFA Convention.
The minimum amount required to establish an endowed scholarship is $20,000 which may be paid in a lump sum or over a specific time period scheduled with the Executive Director.
Please contact the Kansas FFA Foundation for information on endowing a scholarship or making a scholarship a part of your estate plans.
Limited-Term Scholarships
A limited-term and one-time scholarship may be established at a minimum level of $1,000. Please contact the Foundation for additional details. These may be established for chapter-specific or statewide scholarships.
Employer Matching Programs
A great way to maximize the impact of your gift is to have your employer match all or part of your donation. Please ask your employer if they have a matching gift program or if you have the ability to participate in a workplace giving program in order to easily grow your support for the Kansas FFA.
Monthly Giving
Plan to support Kansas FFA every month by utilizing Electronic Funds Transfer (EFT) –a convenient, almost effortless way to be part of the continuing success and excellence of the Kansas FFA Foundation and the programs it supports. To make your gifts via EFT, simply complete and return the accompanying EFT Authorization Form to the Foundation. EFT is a safe, proven electronic funds transfer process that delivers your gifts directly and automatically from your bank to the Foundation, as designated by you. You remain in complete control of the amount and timing of your gifts since they are made in installments only as you have pre-authorized them. You let your bank disburse your gifts or pledge installments automatically until you decide to stop. In fact, you can extend your contribution into installments over the entire year –benefitting your personal budget planning and making it more affordable to give and increase your support of the Foundation.
Electronic Funds Transfer Information
Memorials
Donations to the Kansas FFA Foundation can be made "In Memory" of an individual. We will send the family a list of the donors and their addresses for their personal acknowledgments. All donors will receive a personal thank you letter acknowledging their donation.
(Families should use this language: "In lieu of flowers, the family requests that gifts be designated in _______'s honor to Kansas FFA Foundation. 110 Umberger Hall, Manhattan, KS 66506)
You may make cash or credit card donations by mailing a check or donating online. Memorials can be designated to endowed scholarships established in someone's name if desired.
Please contact the Kansas FFA Foundation for additional information.
Planned Giving
The Kansas FFA Foundation, in partnership with The Trust Company, is now able to administer endowed and deferred charitable gifts. These planned giving opportunities not only allow us to further our mission but allows our supporters and donors to achieve their estate and tax planning goals. These may include gifts by will or revocable living trust, charitable remainder trusts, gift annuities, charitable lead trusts, retirement plans, or outright gifts. To learn more please contact the Kansas FFA Foundation.
Gifts of Grain or other commodities
The gift of grain or livestock is an easy way for producers to give back to FFA members. When dropping off grain at an elevator, co-op or another selling facility, let the weighmaster know that a portion of that load is for the Kansas FFA Foundation.
If you were to tell them that 100 bushels of the load are for the FFA Foundation, whatever the current market price for the grain selling for the day, the Kansas FFA would receive those proceeds.
Please know we are not structured to hold the actual grain at any point in time, so a donation of the physical grain is not accepted.
By structuring the gift as such, the producer potentially reduces their income from grain sales and lessens their tax liability. Please contact your local tax advisor for additional details.
Please contact the Kansas FFA Foundation if you have any further questions.
Social Media Fundraisers
With your social network you can help raise funds for Kansas FFA members. You can set up the fundraiser in four easy steps on Facebook.
Go to your newsfeed
Find the fundraiser button on the left and click it
Type in Kansas FFA Foundation, Inc.
Set a goal and a timeline