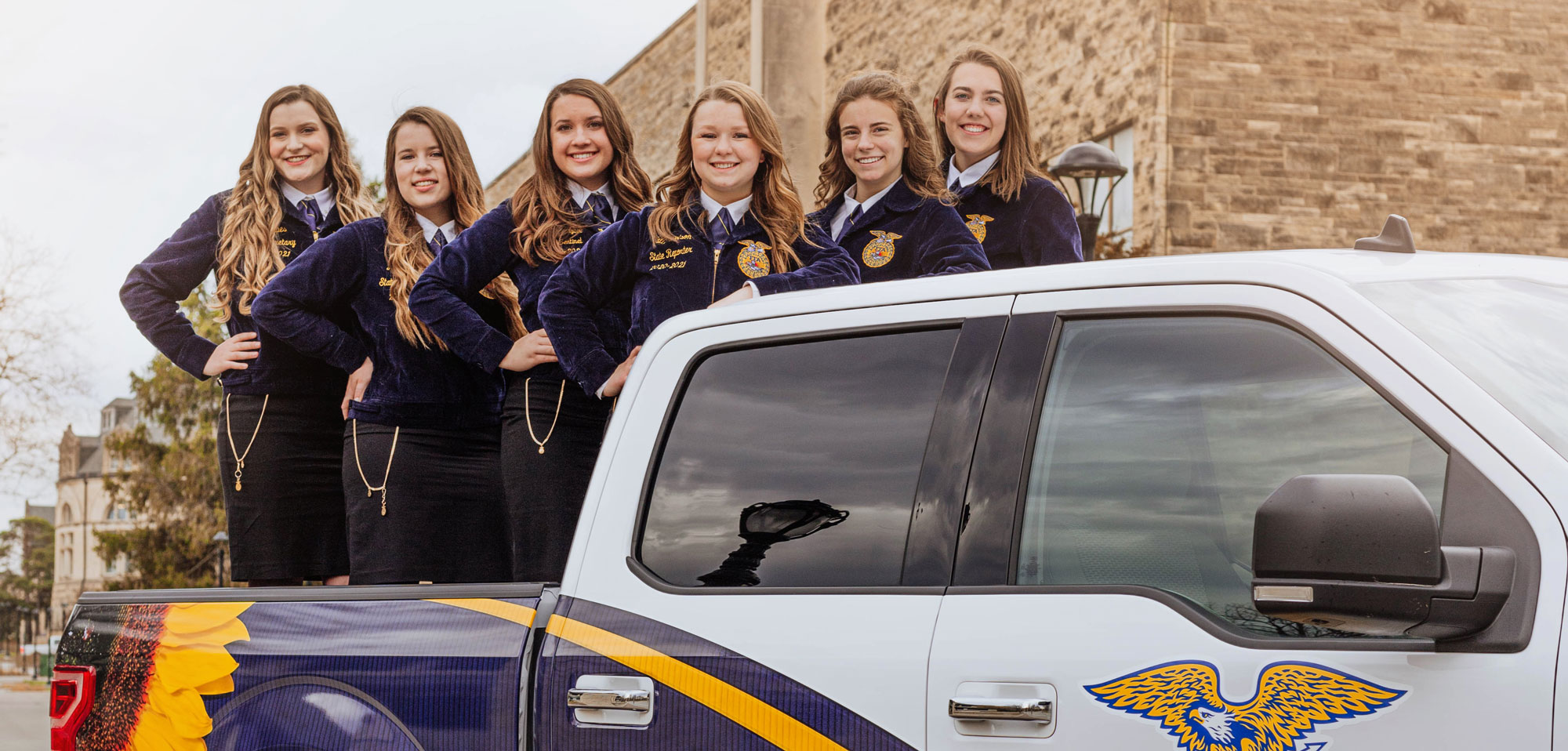 What would you like to support?
Developing our young people to be the leaders of tomorrow is a key component of FFA. We believe through hands-on education, practical application, and personal development our members will achieve personal growth and success. The Kansas FFA Foundation focuses on several key areas for donors to support students, educators, and programs and events. Learn more about how you can provide vital financial support to help us grow the next generation of food producers and leaders.
Our Youth. Our Future. Our Kansas FFA. Endowment+ Campaign
In June of 2022, the Kansas FFA Foundation launched the historic Endowment+ Campaign to raise $5,000,000 for stability and responsible growth of the association. The Kansas FFA Association has grown by 30% in the last decade with no increase in budget. The current funding comes in a variety of ways but none are guaranteed. The Kansas FFA Foundation Board of Trustees worked diligently to create opportunities for the Students and Agricultural Educators of Kansas to ensure appropriate funding and stability for the future. Their research encouraged the creation of an Endowment. While many will understand the need for this ongoing funding mechanism the Foundation also understands that some donors would rather give to the immediate needs of the Kansas FFA and thus the PLUS portion of the campaign was created. Learn more about the historic campaign here.
Youth Leadership Development
Developing our young people to be the leaders of tomorrow is a key component of any FFA program. We believe through hands-on education, practical application, and personal development we will set our members up for success. The Kansas FFA Foundation supports youth leadership development through stipends, scholarships, and grants to attend training and conferences and through the support of programming expenses for our in-state leadership events. Programs such as those listed below allow FFA members to hone leadership and character development skills that apply to real-life situations.
SCCL (State Conference for Chapter Leaders)
SCCL takes students full circle through chapter leadership development. Attendees will learn how to develop action plans for their chapters, set goals, work as a team and build influence.
Leader Lab
Held in the spring, Leader Lab encourages students to embark on an adventure to develop personal leadership skills. The conference focuses on leadership education, motivating others and enhancing your own self-esteem and personal development.
Washington Leadership Conference (WLC)
WLC is open to all FFA members and is the ultimate leadership experience. It provides hands-on experiences that help attendees learn how to apply leadership skills to real-life situations. This conference focuses on personal development, diversity, advocacy, and service. There are seven, one-week sessions each summer.
Student Scholarships/SAE Grants
Scholarships: Kansas FFA members have a rich history of being competitive in the scholarship arena. The Kansas FFA Foundation and its supporters have given numerous young people the chance at a better education through the sponsorship of endowed scholarships, memorial scholarships, and business-supported programs such as the Built Ford Tough scholarship program.
Scholarships for FFA-sponsored events are also awarded annually. The Washington Leadership Conference and International Leadership Seminar for State Officers are two such programs.
SAE Grants
A supervised Agricultural Experience grant allows an FFA member to start or expand their SAE through the purchase of necessary equipment, livestock, or supplies. Grants are awarded based primarily on financial need. Grant recipients are selected by a committee and the advisor's statement is crucially important in establishing the financial need and eligibility of the applicant. The SAE grant program has shown tremendous benefit to members who would like to expand their program but need some assistance to do so.
CDE/LDE and Proficiency Areas
In Kansas, there are thirty-one Career Development Events (CDEs), seven Leadership Development Events (LDEs). These competitions allow members to test skills learned through their agricultural education instruction. CDEs and LDEs vary from communication to food science to mechanics. Some events allow students to compete as individuals, while others require students to work together in a team, all of which are building career readiness. Partners of the Kansas FFA Foundation provide support for awards, plaques, and travel to the National FFA Convention where winning teams will represent the state in the national competition.
Agricultural Proficiency Awards honor FFA members who, through their SAEs, have developed specialized skills that they can apply toward their future careers. Students can compete for awards in areas covering everything from Agricultural Education to Wildlife Management.
Proficiency awards are given out at the local, district, state, and national levels. Partners of the Kansas FFA Foundation provide support for awards, plaques, and travel to the National FFA Convention as well as the State FFA Star program.
Kansas FFA Convention
In June over 2,000 FFA members and guests from across the state come together to participate in general sessions, competitive events, leadership workshops, service activities and meet with industry leaders at the Opportunity Fair. The three-day event, held on the Kansas State University campus, showcases the success of our chapters and FFA members, inspires with keynote speakers, and entertains as top talent comes together for the Kansas FFA Band and Chorus.
The Kansas FFA Foundation, through its generous partners, is proud to support many aspects of the Kansas FFA Convention. As supporters of the Kansas FFA, your help is also appreciated, rather it be through volunteering to judge an event or helping to financially support the Convention programming. To learn how you can help us continue the tradition of holding a professional, top-notch Convention contact the Kansas FFA Foundation. Various support levels are available, including title sponsorships.
Educator Professional Development
The Kansas FFA Foundation, understanding the importance of strong and well-prepared educators in our classrooms, is ever-expanding its support for our agricultural educators. Through the generosity of our donors, we are proud to be the main supporter of the Beginning Educator Support Team (BEST), providing mentoring, coaching, training, and availability to best practices for agriculture educators in their first years of teaching. The Foundation also supports the State FFA Advisor, KAAE, and provides scholarships to educators for professional development and certification in the CASE Curriculum.