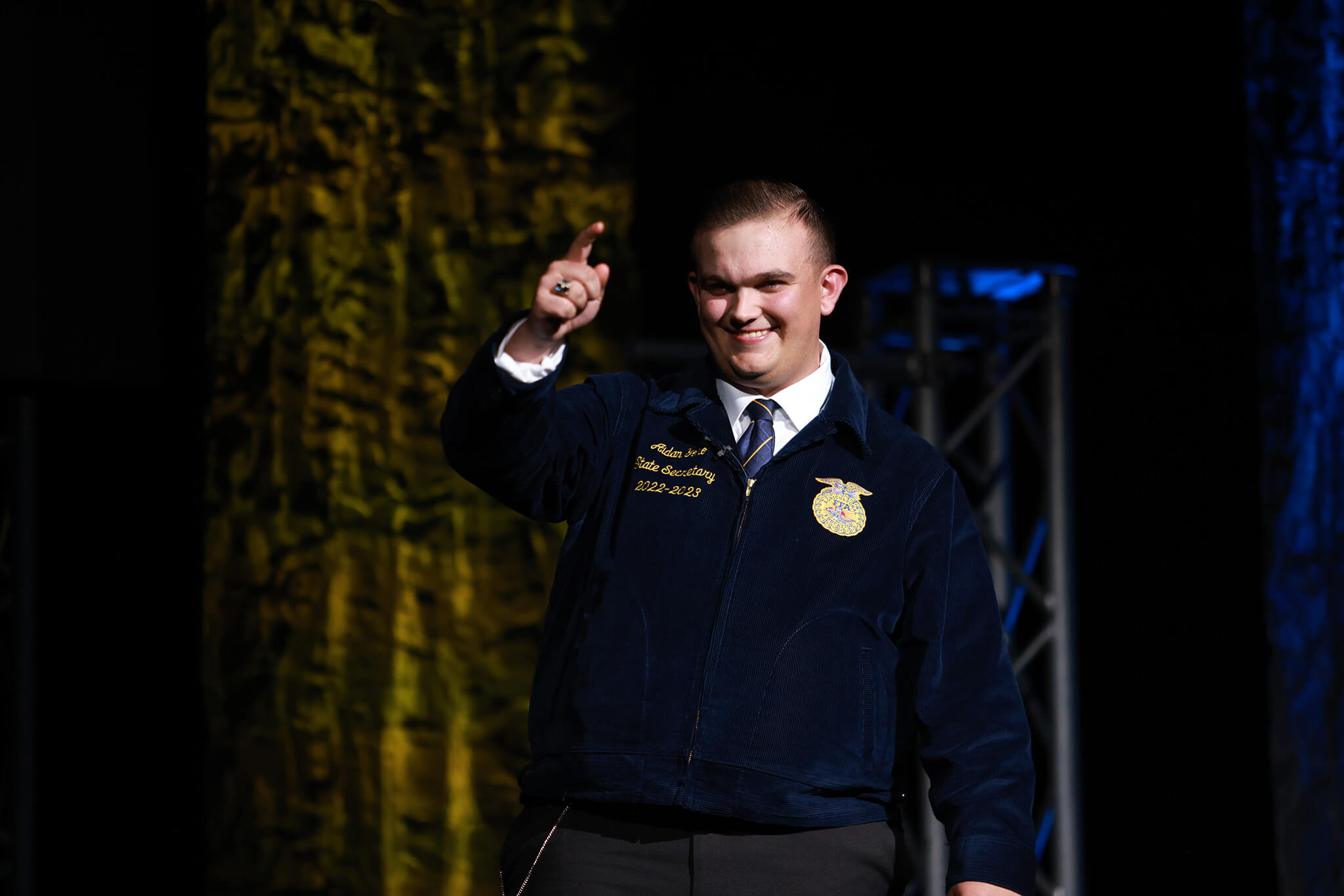 2022-23 State Secretary Aidan Yoho Delivers Retiring Address
"Write Your Story"
"The crowd is on the edge of their seats while the game is on the line. The ball is lobbed up to Johnson and he slams it home! The sound of the fans cheering in Bramlage coliseum after this familiar play lives rent free inthe minds and hearts of every K-State Basketball fan. For those of you that don't recognize the name Johnson, it's time to stop living under a rock. Keyonte Johnson was a key player this season and led the Cats' to the elite 8. He was named third team All American, Newcomer of the Year in the Big 12 conference, and is projected to be an NBA draft pick. He is known for his highlight reel dunks and plays as well as being a super star here in the little apple. On the outside looking in, it appears that this man has it all.
However, his journey to success has not been easy. Keyonte's story is one of determination and grit while overcoming adversity and writing his own story.
On December 12, 2020, Keyonte collapsed on the floor during a game against Florida State University. After being rushed off court he was in a medically induced coma for 3 days and was diagnosed with what is known as "athlete's heart". This condition is an increase in cardiac mass because of systemic training. Many thought this diagnosis would end his career. He spent the next two years at Florida University being an honorary coach and an integral part of the team. While getting healthy and stronger, he Longed to be back on the court. He finally got the medical clearance needed to fulfill his dream after two long years.

Keyonte found himself at Kansas State University and decided to write his own life story. He refused to let the adversities put in front of him determine his fate. He could have easily been defined by his heart condition and collected his $5 million insurance policy. However, this meant he would never have played another minute of competitive basketball again. This was unacceptable to Keyonte because in his mind this was giving up. He looked adversity in the face and decided he wanted another chance on the court. He reflected on that December day and decided that he was not going to let it define his life. Keyonte did not give up when adversity struck and wrote his own story.
I have heard many times in my life that it is your reaction to adversity, not adversity itself, that determines how your life's story will develop. My interpretation of that quote is no matter what our struggles are, it is ultimately up to us how we use life's adversity to grow and change. It's up to us to develop the story of our lives and choose not to let setbacks and hardships define us. It is up to us to write our own story much like Keyonte and MANY others have done.
Another young man who continues to write his own story and REFUSES to let adversity limit his life is someone who I admire more than he will ever know. His name is Kason Botts. Kason is a 6th grader at Marmaton Valley Middle School in Moran, Kansas.
Kason's story is one filled with adversity from birth. He was diagnosed with Prader-Willi Syndrome caused by genetic deletion at conception. Due to Prader-Willi, he was also diagnosed with Optic Nerve Tilt, Reactive Airway Disease, and Obstructive Sleep Apnea. At birth, he was deemed to be a "failure to thrive" and coded when he was 32 hours old. He was in the NICU for almost the first two months of his life. Kason however, had a mom and dad that refused to give up they were determined to not let adversity define their child's life.

Kason has struggled and will continue to struggle with adversity for the rest of his life. He has always had to work twice as hard to do seemingly basic activities. However, if you were to see what he does on a day-to-day basis, you probably could not tell that he has all of these struggles. From the outside looking in, He lives life as any other middle school student.
Last year at the Kansas State Fair is where I got to witness this remarkable young man's determination, drive and grit while he participated in the Champions livestock show. The champions livestock show is a partnership between the Grand Drive, Kansas 4H and FFA, and the Kansas Special Olympics. Goat exhibitors are partnered with special Olympic athletes to teach them the basics of goat showmanship. After 45 minutes of training, a showmanship contest is held and the top three are selected.
I had the privilege to be paired with Kason and he would settle for nothing less than grand champion. He came by and saw me earlier in the day during my showmanship contest. We worked on basics of goat showmanship after my time in the ring and he was a natural goat showman. It was easy to coach Kason as he took what was said and applied it instantly. We walked onto the green chips later that day and it was time for business. I was in awe of his tenacity and his willingness to put himself out there during the entire event. He had the look of a champion the entire time he held onto the goat. Kason's family, as well as mine, were on the edge of their seat to hear the results. His focus and will to win helped him be named grand champion showmen at the Champions Livestock Show. Kason winning grand champion showmen meant more to me than my own placings just hours before.
I am forever grateful that he provided me a real-life example of "it is your reaction to adversity, not adversity itself, that determines how your life's story will develop." Kason and his parents refuse to let any of his adversities in life define how he lives. He is an inspiration to me to keep on going no matter what happens in life. Kason with the help of his family will continue to live out this quote and write his own story.
I am no exception to adversity. It was my senior year when adversity hit me the hardest. I lost my grandfather to COVID-19. He was my biggest supporter and my best friend . I spent the following days heartbroken, sick and unmotivated to get out of bed, in sheer disbelief that he was gone, and constantly crying. I really didn't see my way without him as he was one of the most important individuals in my life. I wanted to give up. I wanted to quit FFA, quit livestock showing, and quit trying at school. I wanted to let the adversity in my life define me, forcing me to give up what I loved and what I had worked so hard for. But I had to find a way to move forward on what was supposed to be the best year of my life. I was only able to climb my way out and cope with my heartbreak with the help of family and friends. Just as everything was finally looking manageable, adversity struck again within my FFA chapter, and I found myself falling back into the hole I was climbing out of.
I had big plans for my FFA senior year, I had contests to go to, events to attend and most importantly, goals to achieve like state office and STAR Farmer. And now, with a new wrench in this plan, it seemed like setback after setback kept occurring. Why me? Why couldn't anything just go smoothly my last year? I wanted to give up and just call it quits on EVERYTHING that I had worked for. But here I am, in this moment, standing in front of you all because I controlled my reaction to adversity and didn't let the adversity that was being thrown at me define the outcome of my Senior year. I didn't give up, I reached out and found assistance. I found different paths to take to achieve my goals. I was able to write my own life's story and Kansas FFA, I am grateful that I did.
Adversity will happen. It is just a fact of life and something that we all will have to deal with. Our adversity will come in many different shapes and sizes. We have to stand firm when things get difficult, look adversity in the eyes, and show it that our fear is smaller than our courage! This is your moment to take control of the situation and prove that you are strong enough to overcome it. Kansas FFA, I want you to challenge your mindset so you can gain resilience and empower yourself. Take the adversity in your life as a chance to grow. And always remember just like Keyonte and Kason, you will write your own story."