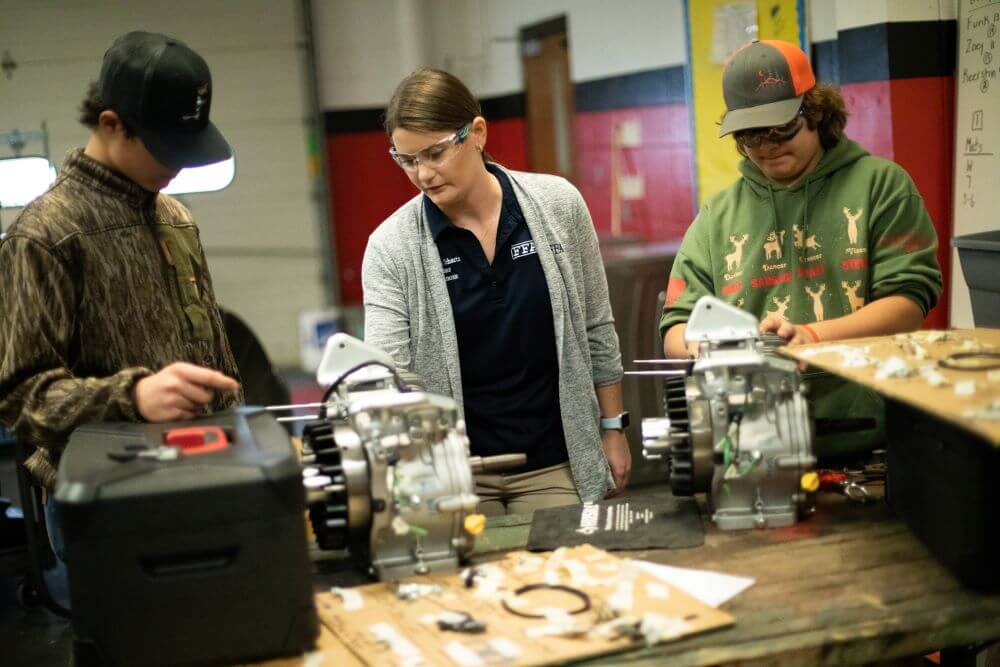 Kansas FFA Members Receive National and State SAE Grants
Foundation
Anderson County
Arkansas City
Beloit
Buhler
Chapman
Chetopa
Clay Center
Columbus
Doniphan West
Ellsworth
Frankfort
Fredonia
Goessel
Hays
Holton
Labette County
Mission Valley
Nemaha Central
Renwick
Riverton
Rock Creek
Royal Valley
Skyline
Tonganoxie
Washington County
Wichita Southeast
Over 60 Kansas FFA members received SAE Grants provided by sponsors of the National FFA and Kansas FFA Foundations.
SAE grants are designed to help FFA members create or expand Supervised Agricultural Experience (SAE) projects, a requirement that all FFA members must complete. An SAE requires FFA members to create and operate an agriculture related business, work at an agriculture-related business or conduct an agricultural research experience. Upon completion, FFA members must submit a comprehensive report regarding their career development experience.
Let's congratulate the following students and thank the sponsors of their grants.
Member
Chapter
Sponsor
Isabel Armstrong
Frankfort
CHS Foundation
Jocelynn Arndt
Arkansas City
Bayer
Isabelle Barker
Tonganoxie

 

Harris Crop Insurance
Kelsie Bowers
Arkansas City
Domino's Pizza
Gracyn Bracken
Fredonia
CHS Foundation
Alyssia Brown
Chapman

 

MKC
Brock Burgman
Blue Valley
Phibro Animal Health
Kirstyn Busby
Riverton
Swamp Fox Innovations
Morgan Carson
Buhler
Kansas Soybean
McKaley Chambers
Clay Center
Harris Crop Insurance
Kenady Deever
Mission Valley

 

MKC
Chesnie Dickinson
Beloit

 

Kansas Grain Sorghum
Easton Dunstan
Blue Valley
AmerisourceBergen Foundation
Quinn Eilert
Beloit
NAU Country Insurance
Makenna Elliott
Washington County

 

Kansas Corn
Graham Foley
Tonganoxie
Invenergy
Lane Fritz
Southeast of Saline
Caterpillar
Emmy Gfeller
Chapman

 

MKC
Noah Goss
Ellsworth
Farm Credit
Ava Gustin
Mission Valley
Rabo AgriFinance
Adelaide Haverkamp
Nemaha Central
Kansas Soybean
Dane Haverkamp
Nemaha Central
Meghan Mueseler
Corbett Hinck
Mission Valley

 

MFA Oil
Conner Hoelting
Mission Valley
MKC
Bryce Hoeltzel
Blue Valley
Farm Credit
Payton Huffman
Buhler
Invenergy
Talon Jasper
Anderson County
MFA Oil
Vanessa Jones
Rock Creek

 

MKC
Carson Kearn
Washington County

 

Kansas Soybean
Nolan Kenworthy
Skyline
Bush Hog
Benjamin Kneisler
Royal Valley
Agzaga.com
Kale Koch
Frankfort
Domino's Pizza
Grace Lance
Chetopa
Caterpillar
Brayden Lexow
Chapman
Bush Hog
Robert Long
Clay Center

 

Kansas Corn
Haiden Lowe
Mission Valley

 

NAU Country Insurance
Jason Mader
Chapman
Rabo AgriFinance
Megan Matulka
Skyline
Kansas Soybean
Kodi McComb
Skyline

 

Kansas Soybean
Kayley McGuire
Beloit
Harris Crop Insurance
Karlee McPhail
Riverton

 

Kansas Corn
Kailei Mitchell
Holton
Agzaga.com
John Moyer
Columbus
General Mills
Dagan Murray
Mission Valley
MFA Oil
Emma Myers
Tonganoxie
Agzaga.com
Ella Neher
Hays

 

CHS Foundation
Natalia Onelio
Arkansas City
Phibro Animal Health
Rylan Parks
Buhler

 

AmerisourceBergen Foundation
Grace Patterson
Tonganoxie

 

Bayer
Dalton Peters
Holton
General Mills
Sophie Polson
Frankfort

 

Harris Crop Insurance
Abby Porter
Riverton

 

Caterpillar
Brooklyn Rawles
Doniphan West

 

Kansas Corn
Dalton Regehr
Tonganoxie
Invenergy
Landon Schreiber
Blue Valley
Bayer
Ivy Schwartz
Arkansas City
Bayer
Kylee Simon
Renwick
Rabo AgriFinance
Braxton Unruh
Goessel

 

Allan & Deanna Sents
Clayton Wagner
Labette County

 

Kansas Grain Sorghum
Anah Warren
Wichita Southeast
Carmichael Irrigation
Noah Wiley
Labette County
Valent U.S.A. LLC
Gage Williams
Blue Valley
CHS Foundation
Koy Williams
Blue Valley
Valent U.S.A. LLC
Isabel Wright
Blue Valley

 

Kansas Grain Sorghum
Jonathan Wright
Washington County

 

Harris Crop Insurance
Halle Young
Skyline

 

Kansas Corn
<![if supportMisalignedColumns]> <![endif]>