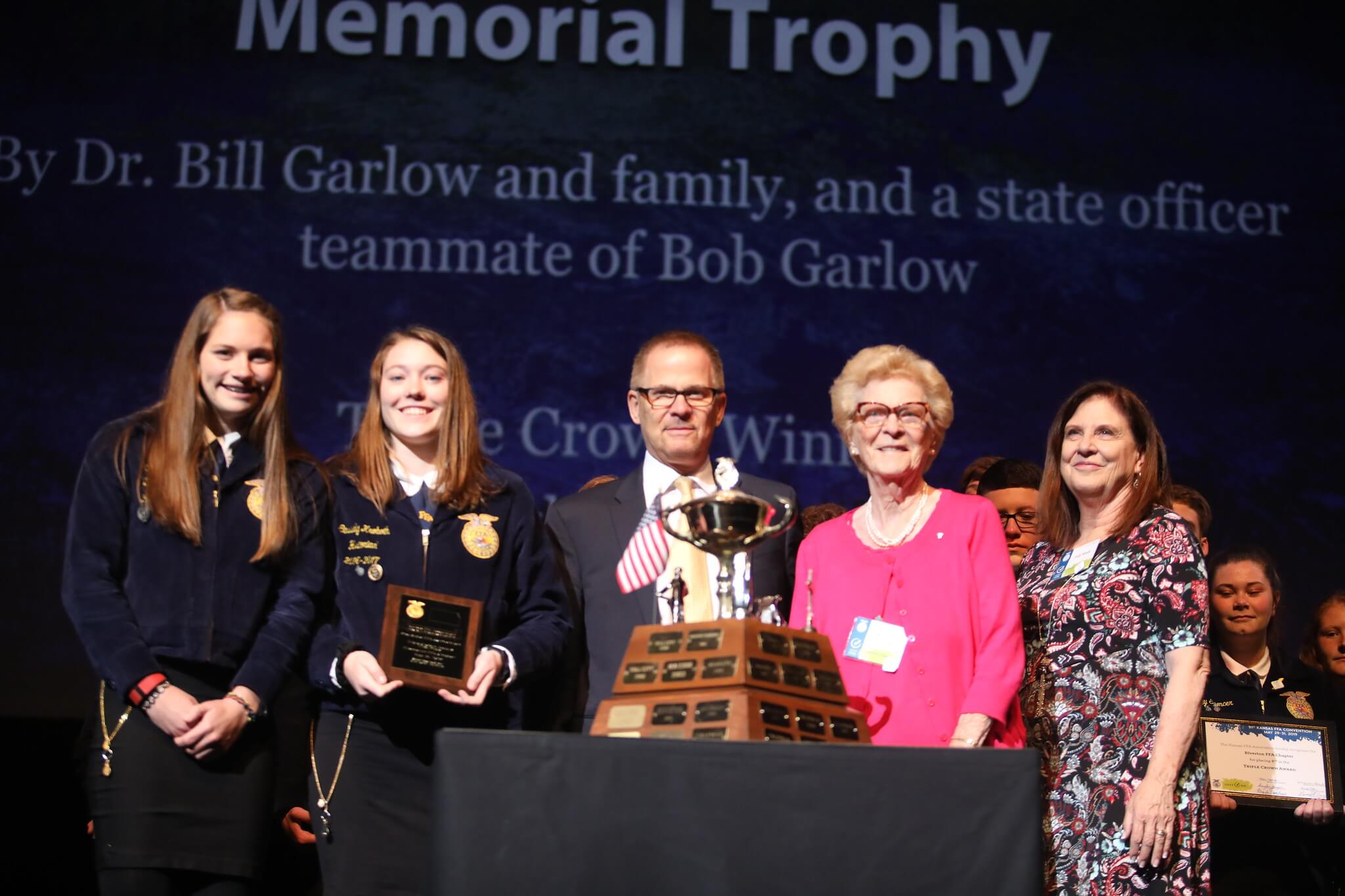 Past Triple Crown Winners
The Triple Crown award is given to the FFA chapter that performs the best in the National Chapter Award program, which recognizes chapters that actively implement the mission and strategies of the organization in the three divisions. Awards are given in each of these three areas in the divisions of bronze, silver and gold. Chapters in the gold division qualify as finalists for the Triple Crown.
This award is in memory of Bob Garlow, a state officer and member of the Concordia FFA Chapter, who passed away during his year of service in 1973.
| | |
| --- | --- |
| Year Received | Chapter Name |
| 2023 | Ellsworth |
| 2022 | Ellsworth |
| 2021 | Ellsworth |
| 2020 | Udall |
| 2019 | Ellsworth |
| 2018 | Chapman |
| 2017 | Chapman |
| 2016 | Chapman |
| 2015 | Chapman |
| 2014 | Chapman |
| 2013 | Chapman |
| 2012 | Chapman |
| 2011 | Wilson |
| 2010 | Wilson |
| 2009 | Riverton |
| 2008 | Riverton |
| 2007 | Holton |
| 2006 | Arkansas City |
| 2005 | Arkansas City |
| 2004 | Holton |
| 2003 | Holton |
| 2002 | Holton |
| 2001 | Holton |
| 2000 | Arkansas City |
| 1999 | Arkansas City |
| 1998 | Chapman |
| 1997 | Chapman |
| 1996 | Clay Center |
| 1995 | Hill City |
| 1994 | Plainville |
| 1993 | Marysville |
| 1992 | Clay Center |
| 1991 | Clay Center |
| 1990 | Hill City |
| 1989 | Concordia |
| 1988 | Clay Center |
| 1987 | Mankato |
| 1986 | Plainville |
| 1985 | Marion |
| 1984 | Mankato |
| 1983 | Marion |
| 1982 | Hill City |
| 1981 | Marion |
| 1980 | Hill City |
| 1979 | Plainville |
| 1978 | Arkansas City |
| 1977 | Hill City |
| 1976 | Arkansas City |
| 1975 | Norton |