Information Updated 11/10/2022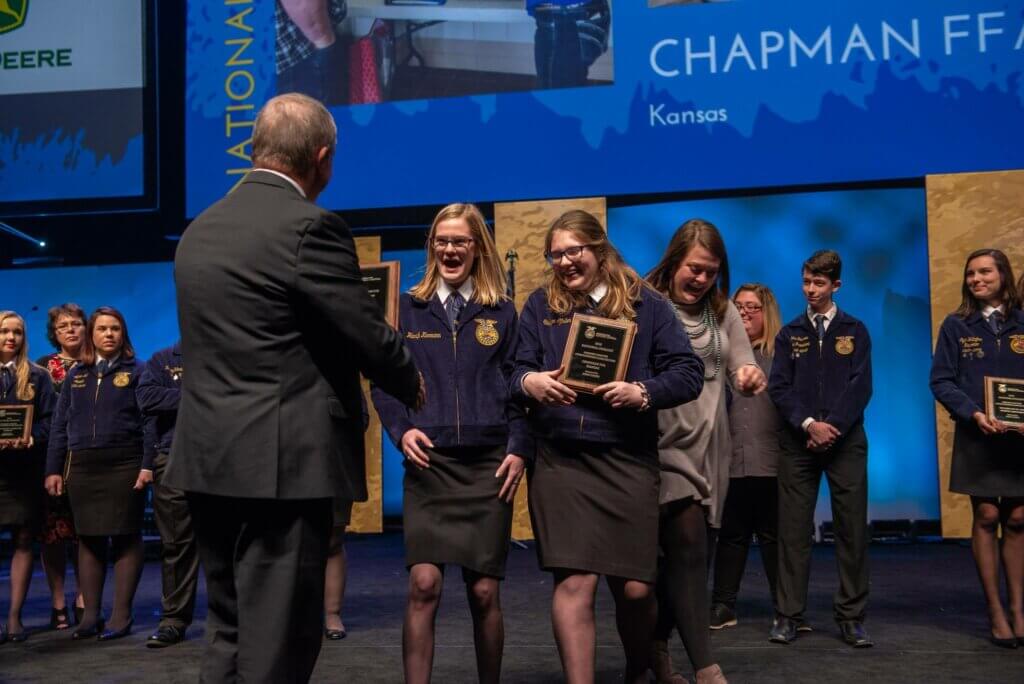 The National Chapter Award Program is designed to recognize FFA chapters that actively implement the mission and strategies of the organization. These chapters improve chapter operations using the National Quality Chapter Standards (NQCS) and a Program of Activities (POA) that emphasize growing leaders, building communities and strengthening agriculture. Chapters are rewarded for providing educational experiences for the entire membership.
Chapters are eligible for recognition in the program each year. A chapter must also conduct at least one activity related to each of the quality standards and meet the minimum requirements as outlined in the NQCS. The quality standards established for each division as well as the NQCS represent minimum requirements for the national chapter award program. The standards help members select those areas needed to have a successful chapter. States may have other requirements, so check with your state advisor or state FFA officials.
To apply for these awards, the chapter must complete Form 1 which includes a self-assessment for the chapter based on the National Quality FFA Chapter Standards (NQCS) and a summary of one activity in each quality standard area at the District Selection Day. A minimum of 51 points or higher in addition to the activity summaries must be earned and completed in order for the chapter to fill out Form 2.
Growing Leaders
Leadership — Activities that help the individual develop technical, human relations and decision making skills to grow leaders.
Healthy Lifestyle — Activities that promote the well-being of students mentally or physically, in achieving the positive evolution of the whole person.
Scholarship — Activities that develop a positive attitude toward lifelong learning experiences.
Personal Growth — Activities conducted that improve the identity and self-awareness of members. These activities should reflect members' unique talents and potential by reinforcing their human and employability skills. The activities should strive to enhance the quality of life and contribute to members' life goals and development.
Career Success — Activities that promote student involvement and growth through agriculture related experiences and/or entrepreneurship and promote career readiness.
Building Communities
Environmental — Activities conducted to preserve natural resources and develop more environmentally responsible individuals.
Human Resources — Activities conducted to improve the welfare and well-being of members and citizens of the community.
Citizenship — Activities conducted to encourage members to become active, involved citizens of their school, community and country.
Stakeholder Engagement — Activities conducted to develop teamwork and cooperation between the local chapter and stakeholders.
Economic Development — Activities conducted to improve the economic welfare of the community.
Strengthening Agriculture
Support Group — Activities conducted to develop and maintain positive relations among FFA, parents and community leaders interested in supporting agricultural education.
Chapter Recruitment — Activities conducted to increase agricultural education enrollment and/or FFA membership and encourage greater participation.
Safety — Activities that enhance safety in the community.
Agricultural Advocacy — Activities conducted to articulate and promote agricultural programs, practices, policies and/or education to elicit action.
Agricultural Literacy — Activities that help consumers become better informed about the production, distribution and daily impact of food, fiber and fuel.
---